White Paper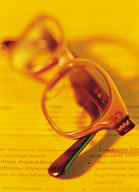 About Colourblindness
Factors in Colour Vision
Illustrations shown above and the statements on this page are displayed soley to explain "Colour Vision" more simply. The science behind Colour Vision is much more complicated than what is explained on this page.
Farben bestehen aus drei Elementen – Sättigungsgrad der Farbe, der Helligkeit und dem Farbton. Wie Sie auf der rechten Abbildung sehen, ist die Tönung das wichtigste Element um Farben wahrzunehmen.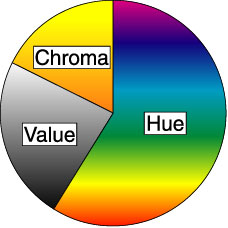 Farbschwäche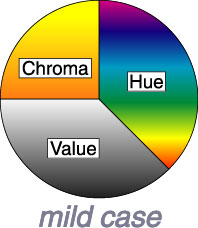 Von den drei Elementen, die uns Farben erkennen lassen, ist in diesem Fall der Sättigungsgrad der Farbe und der Anteil der Helligkeit größer als der Farbtonanteil.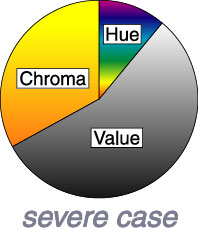 Wie Sie auf der rechten Abbildung sehen, ist der Anteil des Farbtones verringert. Die Wahrnehmung der Farben hängt mehr von dem Grad der Helligkeit ab und das Erkennen der Farben wird schwieriger.
"Colour Vision," or "Sensitivity to lights wave length" differs by individual. Each person perceives colours differently.